Ameya Computers is a diversified global software development and IT outsourcing company that gives both offshore and onshore technological solutions to business enterprises around the world. Ameya has proven expertise in encompassing low cost, but high quality and reliable software solutions and services in areas like IT consulting, offshore web development and business applications and many other business systems.
In the last eight years of its existence, Ameya Computers has achieved the status of a reputed software development service provider by gaining immense experience in undertaking and implementing a wide range of projects for reputed organizations and firms across the India with great success. The state-of-the-art infrastructure accentuated with the latest technological tools at Ameya helps in working out intelligent, quick and cost cutting software solutions for assorted business enterprises.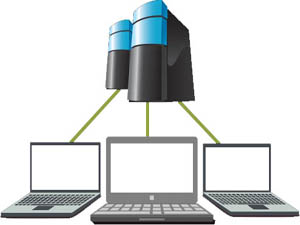 Domain Name Registration / Domain Transfer
A domain name is an identification label that defines a realm of administrative autonomy, authority, or control in the Internet. Domain names are also hostnames that identify Internet Protocol (IP) resources such as web sites. As part of our comprehensive web hosting services we provide domain name registration to create your own domain on internet.
---
The web space, also known as storage space or disk space generally refers to the amount of space on a web server that is allocated to website owners by the web hosting companies. We provide this service to for purpose of creating own website.
---
We provide e-mail hosting service in which we offer e-mail for the user with its own choice of name and limited storage space for inbox. Anybody can have his own e-mail id such as xyz@ameyacomputers.com
---
Interactive websites like B2B or B2C have data of their customers or registered users. Websites also need to manage their data of products and services. Managing it effectively with minimum cost is our expertise. We are providing this service to many of our customers.
---
Ameya Computers assist the websites by providing statistical tools to analyze visitor's traffic information like IP, timestamp, visited URI, referring URI, total hits, unique hits, etc.
---
Digital Certificate Provision
In a virtual world, a hand written signature has no meaning, there is always an element of doubt when sending or receiving sensitive information. A large percentage of internet users leave websites when asked to provide any information about them, simply because the website was not a secure website. Digital certificates are remedial in this case. We provide our assistance in creating secure website through providing digital certificates.
---
Industrial Trading is two way interactions. It is the business in which Traders want to sell their product and companies also looking for good suppliers. A website could solve the problem easily, by listing products and other details on the website, they can share valuable information which has a value parameter.
---
Whether it is B2B or B2C transactions businesses always need money immediately and customers also prefer to their order being processed immediately. In virtual world of internet Payment Gateway is a boon. We offer secure payment gateway service to help the business grow.